Vermonters Feeding Vermonters
The Alliance supports the Vermont Foodbank's request for a $500,000 state allocation to fund Vermonters Feeding Vermonters (VFV), a program to purchase locally grown, fresh produce directly from Vermont farmers to distribute to people struggling with hunger. This investment from the state would improve the health of adults and children in Vermont, provide financial security to local farmers, and strengthen the Vermont economy, all with a reduced environmental footprint.
Continue reading for more information on this priority issue, including data and talking points, connections to the lead organization and other partners, and advocacy tools.

Data and Talking Points
This innovative new program provides people in Vermont facing hunger with healthy, local food while supporting the state's agricultural economy, an integral component of the Vermont way of life.
1 in 4 people in Vermont turn to the Vermont Foodbank for help each year and it is our fundamental belief that everyone in Vermont deserves access to the fresh, local food that our state has in such abundance.
Vermonters Feeding Vermonters has direct benefits for the families receiving the food and also for the state of Vermont. Specifically, families see better health outcomes when they have access to and eat fresh, local produce. Farmers have more financial security when they have contracts ahead of time to purchase large quantities of their produce.

25% of Vermonters Feeding Vermonters recipients reported increased vegetable consumption.
100% of participating growers reported improved financial gains.

Our economy benefits when we keep our food dollars in-state, rather than purchasing food elsewhere. $1 spent on local produce contributes an additional 60 cents to the local economy.
Our environmental footprint is reduced because the food is sourced and served locally. Produce is delivered within a 50 mile radius of where it is grown.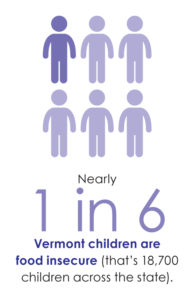 Fund Fresh, Local Food for People Facing Hunger
74,500 people in Vermont are food insecure, including 18,700 children. Lack of healthy food during early childhood is linked to health problems, developmental impairments, social and behavioral problems, and challenges in school. Hunger is related to negative health outcomes resulting in higher health care costs for the state.
Access to healthy, fresh food during early childhood is critical for healthy physical and social development. With 18,700 Vermont children facing food insecurity, the state needs a creative solution to ensure that Vermont's bounty of local, fresh food makes it onto the plates of those who need it most.
LEAD ORGANIZATION:
The mission of the Vermont Foodbank is to gather and share quality food and nurture partnerships so that no one in Vermont will go hungry. The Vermont Foodbank works with over 215 network and agency partners to provide nutritious food in each county in the state.
Resources and Advocacy Tools
Schedule an Advocacy Training
Schedule an Alliance training for a group of early childhood professionals, providers, parents, or employers interested in strengthening their advocacy skills or learning more about the issues on the Alliance's Legislative Agenda. Be informed and ensure your voice is heard on issues impacting Vermont's young children and families.