Farm to School and Early Childhood
Vermont Farm to School is a nationally recognized initiative that supports Vermont's economy, communities, and healthy development and learning for Vermont's children. In 2017, Act 63, the Farm to School bill, was signed into law allowing both registered and licensed child care providers to be eligible for Vermont Farm to School grants. The Alliance supports Vermont FEED, Hunger Free Vermont, and champion organizations in their efforts to fully fund Farm to School and Early Childhood at $500,000 each year.
This level of funding ensures early childhood settings serving children ages birth through grade 3 can access program funding for gardening and farm visits, food procurement planning, professional development, and infrastructure and equipment.
Continue reading for more information on this priority issue, including data and talking points, connections to the lead organizations, and advocacy tools.
Data and Talking Points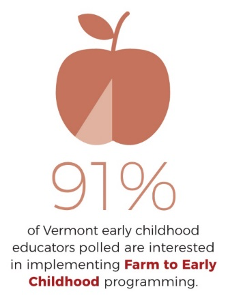 91% of early childhood education providers polled are interested in implementing Farm to Early Childhood programming, yet only 21% have been able to access Farm to Early Childhood professional development opportunities.

The Farm to School and Early Childhood Grants program has engaged over 50,000 Vermont students since 2007. Nearly 50 early childhood education programs have received grants in the last few years.

Every dollar spent on local food contributes an additional 60 cents to the local economy.
Nourishing Children's Bodies and Minds
Vermont Farm to School and Early Childhood has been shown to influence eating habits, create healthy lifestyles, support experiential learning opportunities, improve healthy food access, support teachers' knowledge of nutrition, and address childhood obesity. As Vermont works to provide high quality early childhood services, as many children as possible should receive the benefits of the Farm to School and Early Childhood program – access to healthy foods, food and nutrition education, and community connections.
Resources and Advocacy Tools
Get Involved
Advocate to increase funding for the Farm to School and Early Childhood Program. To submit a written statement, please reach out to Cynthia Greene, Farm to Early Childhood Network Coordinator, at cgreene@shelburnefarms.org.
Join the Farm to School and Early Childhood email list.

Sign a Supporter Card or

Write a Letter to the Editor

: Have a story you'd like to share about what Farm to School and Early Childhood means to you? Want to motivate others to join the effort to expand our programs? You can sign a supporter card or write a letter to the editor of your local daily and weekly papers to expand public knowledge of the importance of Farm to School and Early Childhood and gain press attention for this important issue in your town and region. Visit our

campaign page

for Supporter Card information and tips for writing a letter to the editor.
Schedule an Advocacy Training
Schedule an Alliance training for a group of early childhood professionals, providers, parents, or employers interested in strengthening their advocacy skills or learning more about the issues on the Alliance's Legislative Agenda. Be informed and ensure your voice is heard on issues impacting Vermont's young children and families!
To set up a training, email Matt Levin, Alliance Executive Director, at matt@vecaa.org.