Legislative Activity Continues, Slowly Increases
Alliance staff are hard at work monitoring activity in the remote "State House," since the legislature has moved to fully virtual meetings. Both the House and Senate have approved remote voting, though the security and logistical details are still being worked out.
Legislative committee meetings are happening via video conference, and can now be streamed online. As Representative James points out in a commentary in the Manchester Journal, this new process provides "remarkable access to anyone who wants to follow along."
The videos of committee meetings are recorded and can be viewed at any time. The weekly committee agendas are posted online, as usual – we'd suggest you review those to help you identify which videos are on topics you are interested in.
In terms of actual decision-making, most of the larger issues are on hold. While the state should get a very large financial emergency response assistance package – over $1.25 billion, almost as much as a whole year's General Fund expenditures – there will be many restrictions on how the money is spent. Those restrictions won't be spelled out for another week or two. Until those details are known, the legislature and the Administration are more or less in a holding pattern.
We'll be sure to keep you posted as these discussions begin to accelerate in the coming days.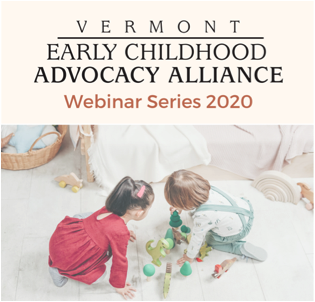 Register for the Alliance's April 2020 Webinar Series
Join the Alliance for a series of virtual advocacy trainings in April! Please complete this form to register (call-in information will be distributed to registrants by email).
Wednesday, April 15, 11:00 am-12:00 pm: Advocacy for the Early Child Community 101

Monday, April 20, 11:00 am-12:00 pm: Virtual Advocacy 101

Monday, April 27, 11:00 am-12:00 pm: Promoting Equity in COVID-19 Response

Monday, May 4, 11:00 am-12:00 pm: Getting Back to Advocacy on Child Care and Early Education with Let's Grow Kids
Each webinar will include an update on State House activities and a Q&A period. If you have any questions, please reach out to Alliance Public Engagement Director Charlie Gliserman at charlie@vecaa.org or 802-595-9913.
Vermont Early Childhood Forums on Childcare
In response to the COVID-19 crisis, Building Bright Futures and the Vermont DCF Child Development Division (CDD) will be hosting a series of forums to answer questions about childcare. Representatives from CDD will clarify guidance for parents, childcare and after school providers, and early childhood partners.
The forums are scheduled for:
Friday, April 10, 1:00-2:00 pm

Friday, April 17, 1:00-2:00 pm

Friday, April 24, 1:00-2:00 pm
Submit your questions in advance via this online form.
To access the forums, request a link from Julia Andrews at jandrews@buildingbrightfutures.org.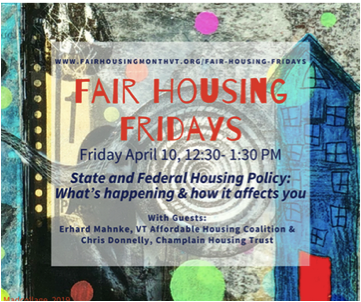 Fair Housing Fridays Webinar Series
April is Fair Housing Month, and the Fair Housing Project of the Champlain Valley Office of Economic Opportunity is hosting numerous online events, including a series of video sessions on Fair Housing issues in the context of COVID-19.
Friday, April 10, 12:30-1:30 pm - State and Federal Housing Policy: What's Happening and How It Affects You, with Erhard Mahnke of the Vermont Affordable Housing Coalition and Chris Donnelly of Champlain Housing Trust

Friday, April 17, 12:30-1:30 pm - Tenants' Rights and Renting During COVID-19

Friday, April 24, 12:30-1:30 pm - Fair Housing During (and In the Wake of) COVID-19
To register for these webinars and find more information about Fair Housing Month events, visit the Fair Housing Month website.