Legislative Update – Coronavirus Relief Fund Summary
On Friday June 26, the Legislature approved three bills that allocated about $600 million from the Coronavirus Relief Fund (CRF) to provide emergency relief. The Alliance and our member organizations have been deeply involved in advocacy regarding the bills. You can find a summary of the outcomes in our advocacy areas and related funding allocations on our website.
The approved bills included a wide variety of provisions that will benefit the state's early childhood community. A chart summarizing all allocated funds can be found here. The column marked "Senate" represents the final language. Note this summary also includes the proposals from the House and the Governor, which were not enacted into law. The final version of H. 965 includes the human services, health care, and hazard pay provisions, and the final version of H. 966 includes the business support and housing provisions.
If you would like more information about any of these issues, please follow the links provided on our site for the Lead Organizations that have been involved in each issue area, or reach out to Matt Levin, Alliance Executive Director, at matt@vecaa.org.
Economic Recovery Grant Webinar – Join Today!
The legislature and administration have worked hard to create grant opportunities for businesses who have suffered a loss of 50% or more within a one-month period between March 1, 2020 and August 31, 2020, as compared to the same month in 2019. Today and tomorrow, the Agency of Commerce and Community Development (ACCD) and Department of Taxes will host a series of informational webinars on the Economic Recovery Grants available for businesses. The webinars will explain
eligibility requirements, grant award calculation information, grant application processes, and which documents businesses will want to have prepared and on-hand when applying.
Thursday, July 2, 3:00 pm - 4:00 pm

Friday, July 3, 8:00 am - 9:00 am

Friday, July 3, 11:00 am - 12:00 pm
For more information, including links to join each webinar, visit the ACCD website.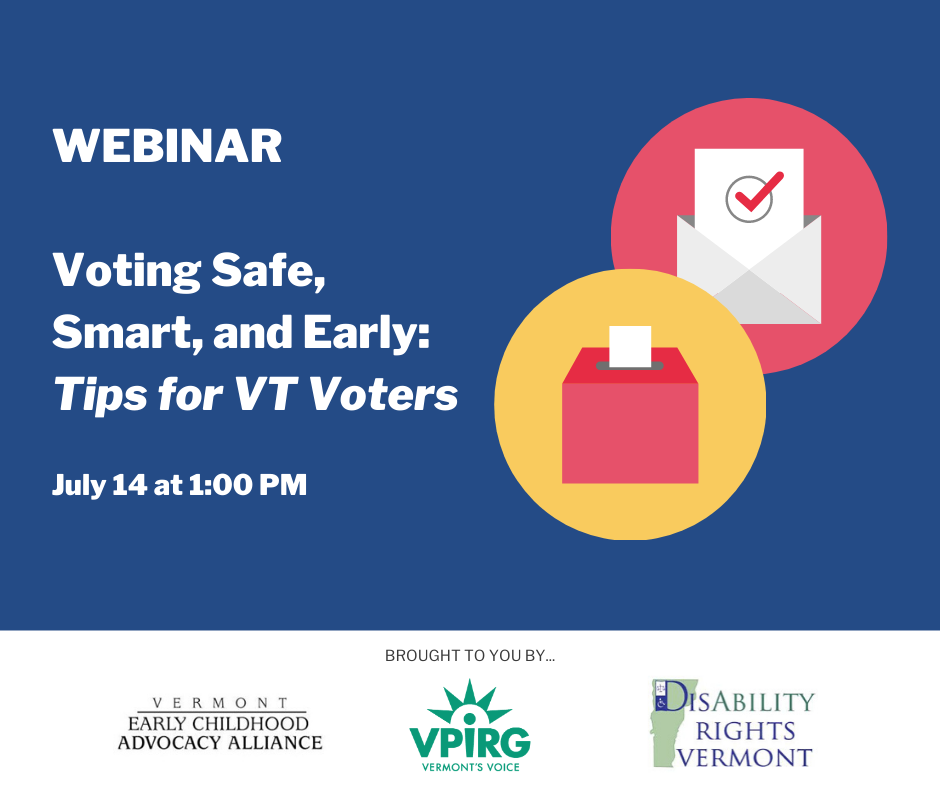 Voting Safe, Smart, and Early – Tips for Vermont Voters
Voting may look and feel a bit different this time around – but it's more important than ever! Join the Alliance, VPIRG, and Disability Rights VT on July 14 from 1:00 – 2:00 pm for a webinar on how you can vote safely in Vermont's August Primary Election (and help others do the same). We'll discuss how to vote (by mail or in-person), how your vote impacts issues you care about, voting rights, and much more.
Make sure you are informed and your voice is heard! Register today.
Vermont Community Loan Fund Racial Justice Statement
The Alliance is a program of the Vermont Community Loan Fund (VCLF), a mission-driven community-focused alternative lender. We are proud to share VCLF's statement on racial justice, which includes a commitment of $1 million to make interest-free loans to Black-owned businesses and Black-led organizations.
For more information about this VCLF initiative, visit their website.