Join Vermont Afterschool's Sign On Letter for a Statewide Reopening Plan Including Afterschool Programs
As school districts release guidelines and schedules for the upcoming school year, many families are concerned about balancing virtual schooling at home with work and a need for care that fits with these varied school schedules. School administrators and families are overwhelmed, and Vermont's state leadership needs to respond.
Vermont Afterschool, along with many other organizations, including the Alliance, is calling on Governor Scott to create a comprehensive statewide reopening plan that includes afterschool, third space, and out-of-school time programming.
Show your support by signing on to Vermont Afterschool's reopening petition, asking Governor Scott to ensure that there is a statewide plan for the school year. This plan must include afterschool programming to help families cover the gaps left by the likely unpredictable school schedules, and the funding to run afterschool programs at the level required to fully meet the needs of families and youth throughout the state.
COVID-19 Early Childhood Operational Relief Grants
The Vermont Department for Children and Families (DCF) has finally announced the details of the grant program for child care and afterschool programs, summer day camps, Parent Child Centers, and Children's Integrated Services agencies. $12 million in federal Coronavirus Relief Funding has been allocated by the state legislature to help programs mitigate the operational expenses and losses following the COVID pandemic. The deadline to apply is August 26.
View DCF's Relief Grant webpage for important information about timelines, eligibility, and more.
VCLF Webinar Series – Reopen, Recover, & Adapt
Join the Vermont Community Loan Fund (VCLF) for a webinar series focusing on reopening, recovering and adapting your business during COVID-19. Sessions begin this week:
August 13, 1:00 pm-2:00pm: Keep it Simple - Focus on Four Key Areas of Your Business

August 14, 1:00 pm-2:00pm: Paycheck Protection Program Loan Forgiveness

August 18, 1:00pm-2:30pm: Post Crisis Cash Flow Management
Click here for workshop descriptions and to register.
Meet the Lead Organizations

Each issue on the Alliance's annual Legislative Agenda has one or more identified Lead Organizations. A lead organization performs several tasks, including researching and writing proposals for issues to be included on the Legislative Agenda, serving as a policy expert on the issue, and working with Alliance staff to secure testimony for committees and engaging legislators.
Voices for Vermont's Children
Voices for Vermont's Children is a statewide membership organization of several hundred individuals and organizations that addresses the full spectrum of child, youth and family issues – from child care and access to health care coverage for children and youth to juvenile justice and child welfare. Voices for Vermont's Children works on behalf of children and youth by: advocating during the Vermont Legislative session; organizing and working in state and regional coalitions; providing up-to-date information, policy briefs and fact sheets on issues important to children and youth; and co-sponsoring workshops, trainings, and conferences.
Voices for Vermont's Children is a Lead Organization for several of the issues on the Alliance's 2020 Legislative Agenda, including Medicaid Coverage for Birth Doulas, Office of Child Advocate, Family and Medical Leave Insurance, Reach Up Funding, and Child Care Financial Assistance Program.
To learn more about Voices for Vermont's Children and their initiatives, visit their website.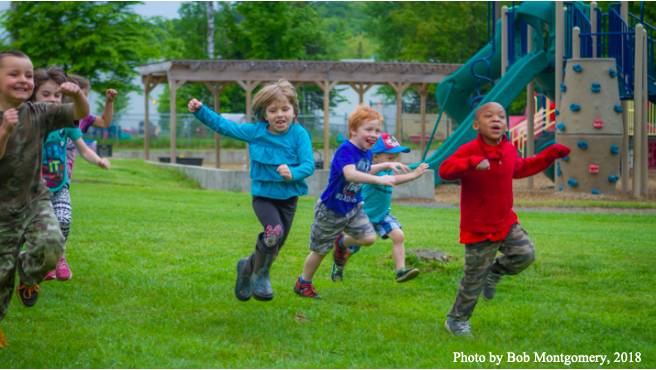 Alliance Membership – Join or Renew Today!
The Alliance's Annual Membership Meeting is scheduled for September 16 from 1:00 pm to 3:00 pm. Make sure you can fully join in the conversation – become an Alliance member today! Details on individual ($20) and organizational ($75) memberships can be found on our membership page. Fee waiver requests and any questions are welcomed and can be emailed to amy@vecaa.org.